Dear Gardener Gal: My sister-in-law gave me a baby tree from her garden. These trees have the most amazing flowers! She also told me that they had fruit.
I would like to take a few, because I need some shade in my garden. Could it be a safe tree for children? Safe for animals? My fingers are crossed. I really like the flowers.
Thank you: – Beth in Homosassa
Dear Beth: Do you have a good relationship with your sister-in-law? Will she sulk if you refuse her? If you get along with her, I want you to say, "Thank you, but no thank you. "
From the photo you sent me, your SIL offers you a pest tree.
It is a paper mulberry, papyriferous Broussonetian. It is a Category ll non-native invasive species here in Florida. They are spreading like mad!
I totally agree with you that the flowers are beautiful, but these trees once established, will take over. "Good! I need trees," you might say. Well, no, because besides sprawling, they're wimpy trees with shallow roots. They were born to shatter into pieces and This fact may answer your question as to whether trees are safe for children. I would not let children climb or, God forbid, hang a tire swing.
I would ask for flower bouquets when your SIL's trees are blooming and I would look for a hardy native tree (s) to shade your garden.
Dear Gardener Gal: My Japanese maple seedling leaves suddenly have circular brown spots, then turn brown and shrivel. What should I do? I put mulch made of soil and gum wood chips. – Tia
Dear Tia: I requested a photo of the seedlings and the problem you are having (feel free to email me anyway if you want) but it is probably a case of the wrong plant, in the wrong place. Japanese maples do not grow well in our planting area. I'm sure there are exceptions, but it's too hot. Your little guys probably have burnt leaves or a fungus. I'd love to see a photo of your soil and mulch situation (I guess you meant sweet gum tree).
If this is a one-time problem and you have otherwise had success with Japanese maples in our area, I'm sure my readers would be very interested. Keep in touch and thank you for writing.
Dear readers: Well, it wasn't that long ago that we had a dragon featured in our "Favorite Garden Place" segment. This time we are sharing a dinosaur sighting.
And Jim from Floral City; I love Dino, and your eye for fun.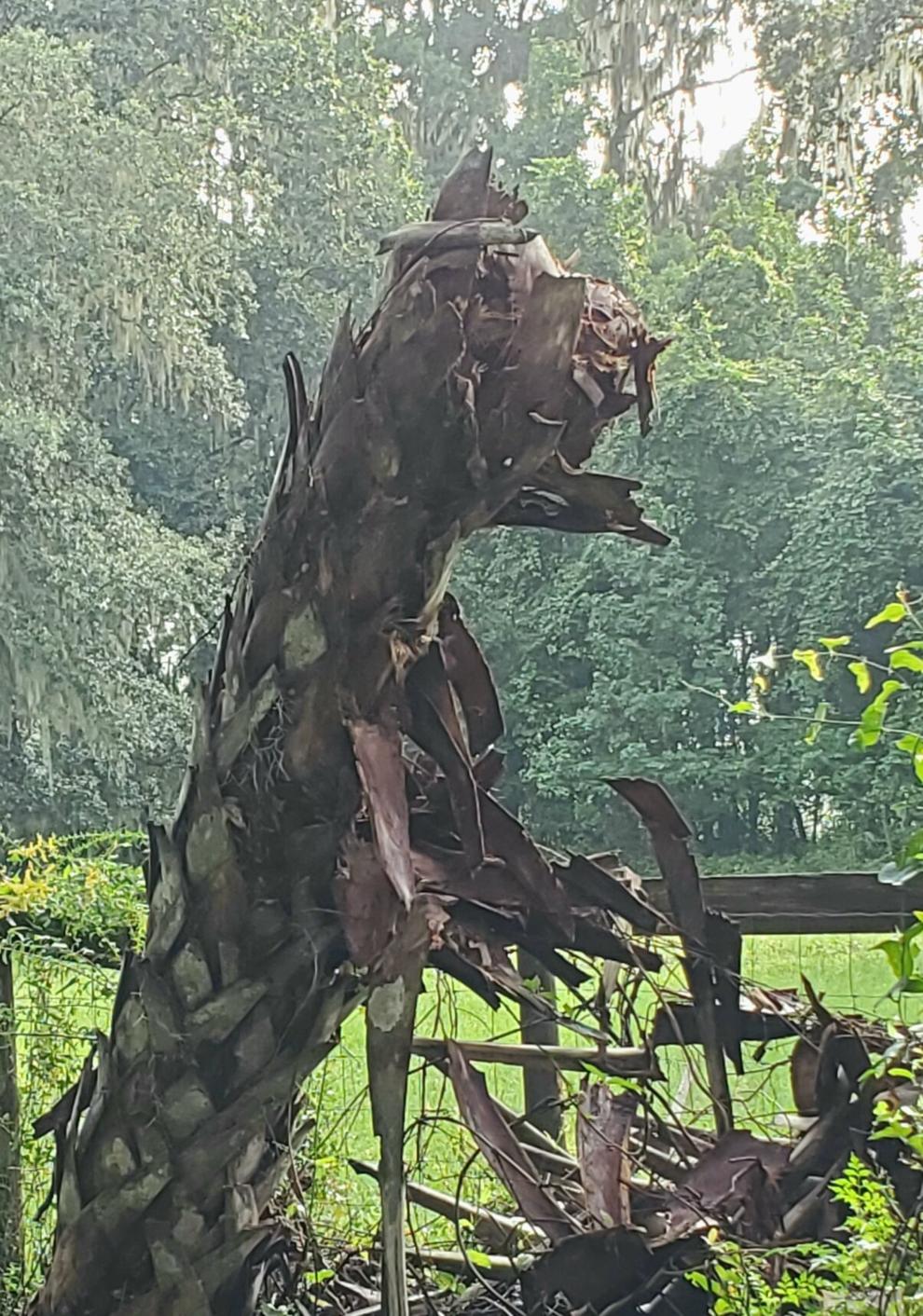 Dear Gardener Gal: Hope you don't think it's silly, but I have a pretty good imagination and on my property and in the nearby forest I often see interesting shapes and figures in nature. Is it a bit like seeing animals when you look at the clouds? Well I had to share this T-Rex sighting. Every time I go down this path and in this corner, it is there! It amuses me and thought your readers might benefit from it as well. Could he even wear a little hat? You don't have to share it if it's too stupid.
Thank you for watching. – Jim in the flower town
"Gardener Gal" Leslie Derrenbacker is a master gardener and originally from Florida. Send your questions to [email protected]